I know, I know, I'm a little late to the Rainbow Rowell readers club. Fangirl topped most people's reading lists of 2013 and here we are, heading into 2015 (though I did read this book a few months ago). So, since I waited this long, I won't waste any time before getting into my thoughts, but first, here is the book's Goodreads description: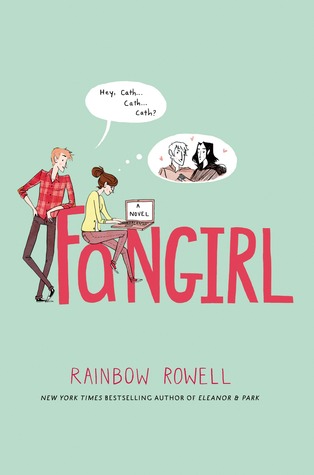 A coming-of-age tale of fanfiction, family and first love
CATH IS A SIMON SNOW FAN. Okay, the whole world is a Simon Snow fan... But for Cath, being a fan is her life--and she's really good at it. She and her twin sister, Wren, ensconced themselves in the Simon Snow series when they were just kids; it's what got them through their mother leaving.
Reading. Rereading. Hanging out in Simon Snow forums, writing Simon Snow fanfiction, dressing up like the characters for every movie premiere.
Cath's sister has mostly grown away from fandom, but Cath can't let go. She doesn't want to.
Now that they're going to college, Wren has told Cath that she doesn't want to be roommates. Cath is on her own, completely outside of her comfort zone. She's got a surly roommate with a charming, always-around boyfriend; a fiction-writing professor who thinks fanfiction is the end of the civilized world; a handsome classmate who only wants to talk about words...and she can't stop worrying about her dad, who's loving and fragile and has never really been alone.
For Cath, the question is: Can she do this? Can she make it without Wren holding her hand? Is she ready to start living her own life? And does she even want to move on if it means leaving Simon Snow behind?
I'll start this review out by saying that I loved this book. It was a quick read packed with so much heart warming and relatable elements. There really isn't that much left to say. Were there moments where Levi wasn't the absolute epitome of a love interest? Sure. Did Cath sometimes act in ways that made me, as a reader, want to shake some sense into her? Of course. Did Wren come across as insensitive and careless? YES!
The thing is, the author crafted the entire book in such a way that those things aren't over done so they're believable. Cath is painfully awkward and uncomfortable to read about at times because she is so wrapped up in her own head, but you can't fault the book because it's so uncomfortable because it's so relatable. Wren is ignoring her sister, but it comes across in a way that, while being awful, is something you can believe would happen to a girl who wants to come into her own personality and start over in college.
I wouldn't say it was a perfect book, but I think it's a great read for people who want a good contemporary read. Without overdone drama and out of this world plot points. This is about average kids in college who are struggling to leave behind the comforts of childhood and become adults. There are fandoms and social anxiety and crushes and familial drama...I think this is a great read for everyone who had that one thing that they loved as a child that they never quite gave up and for people looking for a heart warming "coming into one's own" story.