I finally read a Colleen Hoover book! I read "Finding Cinderella" a few months prior, which is a novella that takes place after "Hopeless" that is usually available for free on amazon.
Now for the few of you who have not yet read this book, here's the Goodreads description before I get into my thoughts: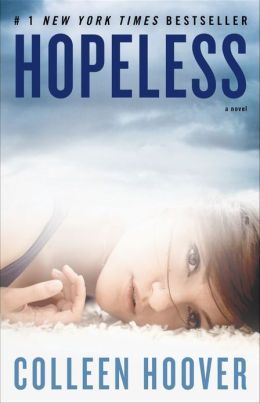 Sometimes discovering the truth can leave you more hopeless than believing the lies…
That's what seventeen-year-old Sky realizes after she meets Dean Holder. A guy with a reputation that rivals her own and an uncanny ability to invoke feelings in her she's never had before. He terrifies her and captivates her all in the span of just one encounter, and something about the way he makes her feel sparks buried memories from a past that she wishes could just stay buried.
Sky struggles to keep him at a distance knowing he's nothing but trouble, but Holder insists on learning everything about her. After finally caving to his unwavering pursuit, Sky soon finds that Holder isn't at all who he's been claiming to be. When the secrets he's been keeping are finally revealed, every single facet of Sky's life will change forever.
Due to sexual content and heavy subject matter, this book is recommended for ages 17+
I'll start this out by saying that I thoroughly enjoyed this book. I finished it in two sittings and I was left feeling more than happy with my choice to read it. However, I can see the issues some people could have with this book, both from a technical and from a personal opinion point of view.
I'll start with the technical things. The very first thing I noticed was the timeline. The "Finding Cinderella" prologue takes place at just before the beginning of this book about a year before this story line takes place and ends after "Hopeless" but the way things played out made that for the most part impossible, so I recommend not holding the story to a strict timeline if you choose to read the novella as well or things won't make as much sense. There were also times where words were repeated in sentences that were too close together making the reading a little repetitive.
Onto the more personal preference things I noticed.
Holder is intense. To the point of being creepy. Skye points this out and the book doesn't try to just play that off, but it's still off and I can understand readers having issues with the love interest being so...I don't want to say controlling, but so passionate in his convictions making him seem almost unstable at times due to sudden mood swings.
Skye and Holder are always hanging out or running or reading and, being seniors, I find it hard to believe these kids aren't having to dedicate at least a little of their time to doing homework.
Some of the dialogue and scenes weaken the book by making it come across as a Lifetime movie. I noticed some lines that were far more cheesy than they needed to be and could have been more captivating had they been worded a little differently.
My last big issue with this book is the message that some people might think is being put across towards the end of the story. This is a spoiler, but there is no way to make this issue spoiler free. Skye has had an emotional and traumatizing experience and it makes it seem like she uses sex as a way to forget about the pain and move past it.
I won't go into a rant about the subject, but I think it's understandable that the way the character decides to solve her problems isn't healthy. Luckily this book is new adult and recommended to an older audience who will hopefully understand the flaws in that reasoning. I understand why it was in the book, it was a way to tie things up between Skye and Holder nicely and bring to a close earlier scenes that tied sex and Skye's past together. However, I think the situation should have been written differently or omitted entirely so it doesn't seem like the book condones using sex as a way to heal and forget rather than talking through the experience/memories.
All in all, I definitely enjoyed this book and plan to read more of Hoover's work.