I am a little behind in reading this book, but I finally did it! I will get into my full thoughts, of course, but I'll admit that I didn't love this book as much as most people. Not to say it was bad, but I think it's the sort of book I would have much preferred a few years ago, around the time I read "Perfect Chemistry" because it is a very similar premise.
Before I go any further, here is the book's Goodreads description: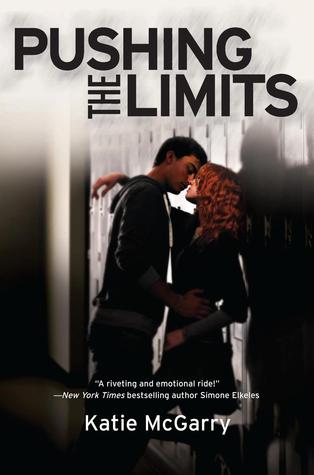 So wrong for each other …and yet so right.
No one knows what happened the night Echo Emerson went from popular girl with jock boyfriend to gossiped-about outsider with "freaky" scars on her arms. Even Echo can't remember the whole truth of that horrible night. All she knows is that she wants everything to go back to normal.
But when Noah Hutchins, the smoking-hot, girl-using loner in the black leather jacket, explodes into her life with his tough attitude and surprising understanding, Echo's world shifts in ways she could never have imagined. They should have nothing in common. And with the secrets they both keep, being together is pretty much impossible.
Yet the crazy attraction between them refuses to go away. And Echo has to ask herself just how far they can push the limits and what she'll risk for the one guy who might teach her how to love again.
So this book is the first of a companion novel trilogy, similar to Simone Elkeles' Fuentes brothers trilogy. Like that series, this is an edgier YA romance that deals with characters who have a lot of personal baggage in their past.
I don't read many YA drama stories anymore, but I figured I would try this book out because 1) everyone raved about this series and 2) I've enjoyed this genre in the past, even if it's been a few years.
I'm glad I read this book, but I don't think I'll continue with the series. Perhaps I will check the other books out from a library at some point, but I don't see myself purchasing them because of some things I noticed in this book that turned me off to the trilogy.
Echo's friends were annoying. They were vapid and lacked substance or development other than being "popular" and "pretty". The drama of the story was overdone, in my opinion. I found it difficult to believe the other students hated Noah and his foster siblings primarily because they were in the foster system (followed then by the fact that they were the school "burn outs").
The guidance counselor has some very unconventional techniques, which is fine, but it never mentions anything about how the principal feels about her taking students off campus in the middle of a school day, for example. The students don't mention it and there is never a moment where it seems like the principal could have been asking some questions.
The romance builds for 200 pages only to be thrown together in a very rushed sort of way, making the rest of the relationship shaky and sloppy feeling in its role in the story.
Echo is the epitome of a frustrating character who refuses to talk things out with people and instead chooses to let things fester until she agonizes over them far more than she should. Now, this is something everyone does, but I feel like most people are better at communicating than she is.
The characters' self-growth is too quickly evolved and not believable, and the story itself ended in a rush that doesn't make it seem like the story is finished and satisfying. Rather than seeming like a good close, it felt like the drama would only continue to get worse because that's the only option after the way things ended too cleanly.
All in all, I think I would have enjoyed this book more a few years back when I read more from the genre. However, while I didn't love the book, I do think this is good for readers looking for an angsty YA book that's a fun distraction and a quick read. Sure there are better books out there in my opinion, but this wasn't bad and I wouldn't say to stay away from it.