This week's review is over a book I read all the way back in July! I know. Running a little late. Luckily I had very strong feelings about the book and of course took some notes, so I'll still be able to let you know what I thought of "The Night Circus". Of course, before I get into my thoughts, here is the book's Goodreads description: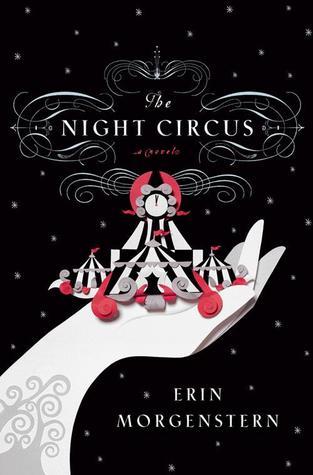 The circus arrives without warning. No announcements precede it. It is simply there, when yesterday it was not. Within the black-and-white striped canvas tents is an utterly unique experience full of breathtaking amazements. It is called "Le Cirque des Reves," and it is only open at night.
But behind the scenes, a fierce competition is underway--a duel between two young magicians, Celia and Marco, who have been trained since childhood expressly for this purpose by their mercurial instructors. Unbeknownst to them, this is a game in which only one can be left standing, and the circus is but the stage for a remarkable battle of imagination and will. Despite themselves, however, Celia and Marco tumble headfirst into love - a deep, magical love that makes the lights flicker and the room grow warm whenever they so much as brush hands.
True love or not, the game must play out, and the fates of everyone involved, from the cast of extraordinary circus performers to the patrons, hang in the balance, suspended as precariously as the daring acrobats overhead.
This book came out a few years ago and was automatically being raved about as a must read for people who loved Harry Potter. While I had always been interested in the book, I put off reading it until this year and I have to admit, I wish I had read it sooner! I loved this book! It was a quick, magical read that threatened to distract me from my Camp NaNoWriMo duties in July (fun fact, the first draft of this book was a NaNoWriMo project).
Now, that's not to say the book was perfect, and as much as I loved the book, there were a few things to note:
The book succumbs to the need for there to be a love triangle/jealousy to force certain plot points, even though that cliche has been used to death and is really no longer necessary.
The entire story centers around a competition of sorts that only is explained in bits and pieces and can sometimes seem confusing based on how the book is told (switching back and forth between a few different time periods).
The story can seem to drag on a bit, focusing on world building and developing the circus attractions. If you read the book in a sitting or two, it's fine, but if it takes you longer to get through the book, I can see some parts being tedious.
Sadly, so much focus is on building the circus that some of the characters are a little flat and underdeveloped. Not to say you don't care about anyone as a reader, I just didn't find myself caring for everyone the way I wished I did, personally.
If you read the description, the synopsis puts a heavy emphasis on "true love" and the romance intermingled throughout the competition, but that doesn't make a huge appearance until much later. Yes you can see the characters noticing each other and becoming intrigued with one another, but they don't show their feelings until further into the book and so the description relying so heavily on it is a bit of false advertising that the book doesn't need.
It's a great story. It's so much fun and like a magical fairy-tale for adults (though younger readers can definitely read this as well), I recommend it to people who like and are looking for a gothic magical fix.