I am one of the last people to read this week's book, it seems. First published in 1988 "The Alchemist" is an acclaimed but rather polarizing book among readers. Before I get into my thoughts on it, here is the book's Goodreads description: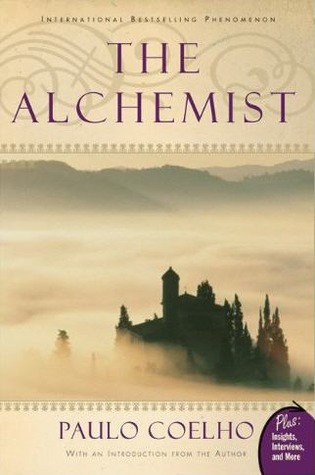 Paulo Coelho's enchanting novel has inspired a devoted following around the world. This story, dazzling in its powerful simplicity and inspiring wisdom, is about an Andalusian shepherd boy named Santiago who travels from his homeland in Spain to the Egyptian desert in search of a treasure buried in the Pyramids. Along the way he meets a Gypsy woman, a man who calls himself king, and an alchemist, all of whom point Santiago in the direction of his quest. No one knows what the treasure is, or if Santiago will be able to surmount the obstacles along the way. But what starts out as a journey to find worldly goods turns into a discovery of the treasure found within. Lush, evocative, and deeply humane, the story of Santiago is an eternal testament to the transforming power of our dreams and the importance of listening to our hearts.
I went into this book not really knowing what to expect. I knew a lot of people loved it, but I also knew a lot of people were less than impressed.
I am in the middle ground. I wouldn't say it's a must read, but I didn't hate the story either. I did have a few issues, however that are the reason I didn't really enjoy the book.
The book, while trying to be deep and philosophical, seemed to drag on greatly.
The time period is a little ambiguous, making visualizing the story difficult.
There was some repetition and word cushioning. For such a short book, it makes me wonder how much further the story might have been cut down had those not been present.
This book is very spiritual/religious in its tones, so anyone who doesn't like those sorts of reads should be aware of that before beginning.
The "alchemist" part shows up halfway through the book.
I can see why people like this book, but it has pretty specific demographics that not everyone will fit into. If you're interested but not ecstatic about reading it , like I was, then I say borrow it and give it a try.