I know I know, another Christmas book that is very late in getting its review up. I could argue that a few of the stories in the book aren't so much Christmas stories, but I won't. I realize that this review is very late, but it's taken me a while to decide how I wanted to review it.
Before I begin, though, here's the Goodreads description: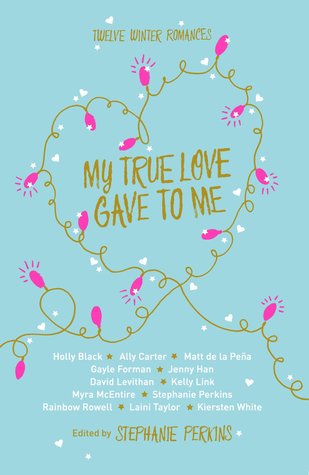 If you love holiday stories, holiday movies, made-for-TV-holiday specials, holiday episodes of your favorite sitcoms and, especially, if you love holiday anthologies, you're going to fall in love with MY TRUE LOVE GAVE TO ME: TWELVE HOLIDAY STORIES by twelve bestselling young adult writers, edited by international bestselling author Stephanie Perkins. Whether you celebrate Christmas or Hanukkah, Winter Solstice or Kwanzaa, there's something here for everyone. So curl up by the fireplace and get cozy. You have twelve reasons to stay indoors and fall in love.
Being an anthology, I wasn't sure if I wanted to talk about my general thoughts, or go into my thoughts on each story. I've decided on the latter.
Midnights by Rainbow Rowell: Cute. Noel reminded me a lot of Levi from Fangirl, so I'm not sure how original the story itself can claim to be in origin, but it was a good start to the book and I enjoyed it.
The Lady and the Fox by Kelly Link: The vocabulary didn't really fit the characters' ages at the time and was told in a semi out of order way for a time which made it confusing. Also, the story had the stereotype that rich people are unstable and eccentric which was a little eye-roll worthy. The ending got a little unclear and confusing the story itself didn't really seem to fit the anthology's theme (which actually happens with a few of the stories).
Angels in the Snow by Matt de la Pena: Nice. The main character got a little annoying, and it felt unfinished, but over all it was nice.
Polaris is Where You'll Find Me by Jenny Han: Very reminiscent of the Santa Claus movies. There were some contradictions. The elves were actually pretty unkind. The fact that they aren't the traditional
Santa Elves is never addressed (like where that myth came from) and the ending was pretty unsatisfying.
It's a Yuletide Miracle, Charlie Brown by Stephanie Perkins: There was some word cushioning, but other than that, it was adorable and I loved it.
Your Temporary Santa by David Levithan: Didn't really fit the anthology theme until the very end, and even then not really. The story was too big and complicated to fit into a short segment and should have been its own novella/novel
Krampuslauf by Holly Black: Rushed into things a bit, but still good. The magical elements just sort of appear with no explanation and I think it should have been longer to have lived up to the potential it had.
What the Hell Have You Done, Sophie Roth? by Gayle Forman: The story resolved itself a little too quickly, but otherwise, I really enjoyed it.
Beer Buckets and Baby Jesus by Myra McEntire: I didn't really like the characters or their voices and they all seemed pretty generic with their personalities and backstories. I didn't really care about the plot or anyone involved in it.
Welcome to Christmas, CA by Kiersten White: Very heavy on the "jealous of mom's boyfriend" plot tool. The story and characters were pretty run of the mill. The change of heart of some people happens so quickly it gave me literary whiplash.
Star of Bethlehem by Ally Carter: Story is incredibly unbelievable, there's no way it would work out. The big reveal at the end was even more far fetched and there are so many ways it could have been handled better.
The Girl Who Woke the Dreamer by Laini Taylor: Confusing, it didn't really fit the theme in really any way. The plot tried to explain itself but it failed a little and just ended up being dark and odd.
Overall, non of the stories made me want to read anything by the authors I hadn't already read and it didn't deliver what you might expect. You would probably go into this book wanting a lot of cute, fluffy stories to fit the cheerful Christmas spirit, and some of the stories really don't meet that.
I wouldn't say to definitely avoid it, but I think it's passable if you're not that interested.