Today's review is a few months in the making. Luckily I have my notes from my reading so I can still review my thoughts even if it's been a few months.
Since this review will be over the second book in a series, there will be some spoilers for "Cinder" so I advise you to click out of this review if you haven't read that book yet and you would like to.
As always, before I get into the review, here is the book's Goodreads description: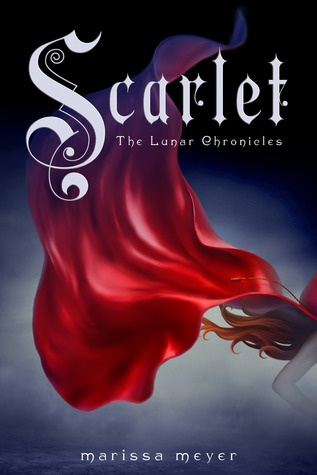 Cinder, the cyborg mechanic, returns in the second thrilling installment of the bestselling Lunar Chronicles. She's trying to break out of prison--even though if she succeeds, she'll be the Commonwealth's most wanted fugitive. Halfway around the world, Scarlet Benoit's grandmother is missing. It turns out there are many things Scarlet doesn't know about her grandmother or the grave danger she has lived in her whole life. When Scarlet encounters Wolf, a street fighter who may have information as to her grandmother's whereabouts, she is loath to trust this stranger, but is inexplicably drawn to him, and he to her. As Scarlet and Wolf unravel one mystery, they encounter another when they meet Cinder. Now, all of them must stay one step ahead of the vicious Lunar Queen Levana, who will do anything for the handsome Prince Kai to become her husband, her king, her prisoner.
After absolutely adoring Cinder, I was extremely excited to jump into Scarlet and over all, I wasn't let down! I do have a couple notes to keep in mind though that kept the book from being perfect.
The relationship between Scarlet and Wolf doesn't make sense, and by that I mean it's rushed. Part of that is due to the fact that this book follows mainly five characters' perspectives whereas the first installment only followed Cinder and Kai- which allowed them more room in the book to interact and blossom a relationship. The way the story progressed didn't allow the reader to see them evolve as characters and so it seems abrupt. The reader might feel like they've missed something because, while the end game is predictable, you don't get to see the entire journey the characters took in their own minds to get there. This isn't a big problem as it's certainly not the first book to do something like this, but it is a plot point the reader might almost have to turn a blind eye to.
There are a few chapters thrown in randomly that follow characters other than the five main perspectives. This serves to let the reader know what is going on throughout the storyline, and that makes perfect sense, but it is also a little confusing and choppy feeling to never see those perspectives come up again during the course of the book.
In the end, I think that if you liked Cinder, you'll enjoy this book as well. The new characters are a little stubborn and might be difficult to like in the beginning, but they grow on you and I am extremely excited to see where the series goes.